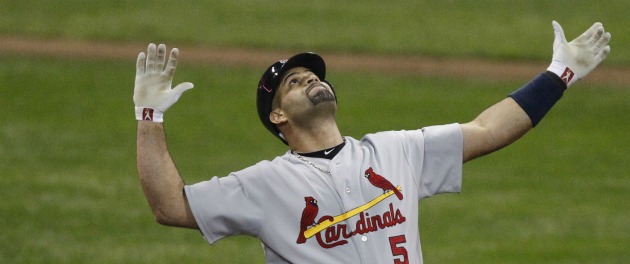 As a sports fan, we all know that it's going to be a rollercoaster ride of emotions throughout the years as we root for superstars, underachievers, and overachievers that suit up and wear the same colors that most of us are willing to proudly display somewhere in our everyday life. But whenever you boil everything down, it usually falls into one of three categories. The good, the bad, and the ugly.
Watching the NBA draft lottery in 2008 as my beloved Chicago Bulls lucked into getting the 1st overall pick and thus being able to select hometown boy Derrick Rose is a great memory. Finding out about Darryl Kile's death back in 2002 was one of the worst moments I've been through as a sports fan, and it doesn't get much uglier then Rex Grossman being your quarterback when your team reaches the Super Bowl for the first time in your lifetime. But yesterday was one of the most unique days I've ever had as a sports fan, and this is why.


First things first, the good. The Cardinals were down 1-0 to the hated Brewers but Albert Pujols showed why he's the best player in baseball and why if anyone isdeserving of a $300 million dollar contract, it's him. He finished the night with 3 doubles and a home run to bag 3 runs and 5 RBIs as the Cardinals won in Milwaukee to even the series up 1-1 as it heads to St. Louis tomorrow tonight.
The bad was that I stayed up to watch my Bears get gashed by Calvin Johnson early and Jahvid Best late as the offensive line was busy either committing 9 false starts or giving Jay Cutler no time to throw. Cutler and Forte looked great and if the Bears had not committed so many costly penalties and been able to keep from giving up the big play (like the Cover 2 is designed to do) they probably would have won the game. Instead they fall 3 games behind the Packers and Lions and are left with huge questions about what they need to do going forward.
And the ugly was the inevitable but painful news that the first two weeks of the NBA season had been lost. I'm going to be writing more about this obviously because I'm such a huge basketball fan but I couldn't help but feel the sting whenever the news became official. More is going to get canceled, possibly the entire season, but the lockout is finally really sinking in. I was only 10 when the NBA lost games before so this is the first time I've really experienced lost games (I'm not an NHL fan) and let me tell you, it's ugly.
As a sports fan, you expect a lot of ups-and-downs throughout not just the years but from game-to-game and quarter-to-quarter, or inning if we're talking baseball. But yesterday I was taken on quite possibly the biggest rollercoaster of my sports life, getting jam-packed with all three emotional trips from my three favorite and most closely-followed teams all in the span of a few hours. Now if you'll excuse me, I'm going to go take some Ambien and get some rest, I don't think I can handle another night like that for a while.